What are the things that can affect the value of old cars?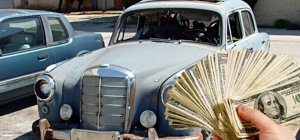 It is a hard and cold fact that nearly all cars depreciate over time. No matter how new, innovative, or shiny your new car is, the moment you start its engine and take it home, its monetary or trading value gets lower and lower. There is simply no practical way to prevent such thing from happening. Moreover, one cannot just buy a car and expect to sell it at a higher price.
There are a lot of factors that could affect a vehicle's value as well as the rate of its depreciation. In today's blog post, we at Car Removals Melbourne have lister the most common factors that can affect the value of old cars. We hope this helps!
Factor #1: The condition of the vehicle
Car buyers who have a larger budget tend to look for cars that are aesthetically pleasing. Since they have the money to purchase cars, they would rather pick one that looks better than most old cars. Buyers also judge the price of an auto by its appearance. A car that looks good is often seen as more expensive, which can drastically affect its value. If it is scratched, rusted, or dented, its value will severely lessen.
Factor #2: The car's brand
Ask a car enthusiast to guess a car's value and the first thing they would look at is the vehicle's make and model. As per vehicle trading statistics, cars like Japanese, Subaru, and Nissan have a slower depreciation rate than British car makes such as Bentley and Land Rover.
Aside from the brand, you should also take into account its make. Let's take the BMW 7 series model, for example. This model is quite expensive when it is still brand new. In fact, it used to sell as for $70,000. However, if you look online for second hand cars of the same model, you might be surprised to see them selling for nothing more than $15,000. If you want to get in touch with a company that will buy your car for its highest value, find a company that specializes on a certain make. So if, for example, you own a Nissan, look for a trusted Nissan Wreckers Melbourne or Melbourne Japanese Recyclers company.
Factor #3: The color of the auto
Statistics collected by car sellers and manufacturers show that consumers often choose cars that have plain colors. This includes white, black, and silver. Cars with these colors are said to retain their original price longer than cars with bright, vibrant colors such as yellow, orange, or pink.
Factor #4: The car's mileage
High mileage cars are highly preferred over cars that have low mileage. People want a fuel efficient car, one that can take them to far places without spending too much money on gas. If you're buying a vehicle with the goal of minimizing cash spent on fuel, certainly you should look for a high mileage one.
Factor #5: The engine and its condition
Most buyers of old cars are those who know a fair amount about vehicles. The engine's condition is perhaps the most important factor that a car buyer need to consider when choosing a vehicle. People buy cars because they need something that can transport them from one place to another easily, quickly, and efficiently. When an engine is damaged or if it's made from low quality materials, the car's main purpose is compromised. A car's value is greatly affected by the engine's condition. Sellers of old, second-hand cars should keep the paperwork and receipts of all the repair-work and maintenance that has been done to the auto's engine.
Good Melbourne old car removals organizations are experts at judging a car's value. With a team of car professionals, they can do a thorough assessment of your vehicle in a quick and efficient manner. Moreover, established scrap car removal companies are known for their environment friendly